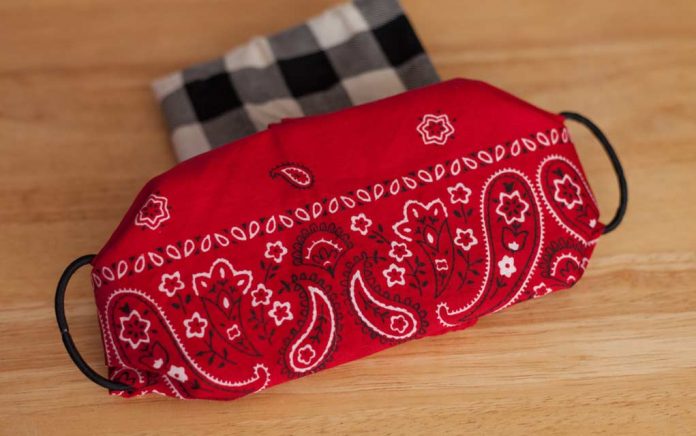 (AscendHealthy.com) – According to recent reports, about 90% of the US population is under some kind of stay-at-home order, and the CDC is recommending people wear face coverings when they do go out in public. There's just one problem: Masks are in short supply right now. Don't worry — regardless of your sewing skill level, you can make your own.
Quick Read:
With masks in short supply, many people are resorting to making their own. Try your hand at a simple face-covering recommended by the US Surgeon General that uses an old bandana or scarf and elastic hair ties. Another no-sew model uses a paperclip for the nose-pinch. If you have some sewing skills, you might want to try a design that repurposes reusable shopping bags and pipe cleaners. Another clever design calls for the HEPA filter vacuum bag and a hot glue gun. Need to make a face mask? We have videos and step-by-step instructions in the article below.
Here Are a Few Ways to Make Your Own Face Mask.
Surgeon General's Recommendation
This do-it-yourself face-covering tutorial was released by the CDC and instructed by the US Surgeon General, Dr. Jerome Adams. He explains how to make a face-covering using materials you can find around the home.
This one is super easy:
Start with a scarf, bandana, hand towel or an old shirt.
Fold your material so that the top and bottom edges meet in the middle.
Fold the top and bottom edges into the middle, again.
Secure a rubber band about a quarter of the way on each side.
Fold the remaining fabric from both sides around the rubber bands, into the middle, forming your makeshift mask.
Looking to make something a little sturdier? Try one of the designs below.
Epidemiologist-Designed, No-Sew face Mask
Go full-on MacGyver with this face mask you can make with a bedsheet, scissors, a stapler or safety pins and — you guessed it — a paperclip.
Here are the steps:
Measure and cut the sheet 5 inches down into 13-inch lengths along the hem. A queen-size sheet should make at least 20 masks.
Cut four 17-by-1/2-inch strips for each mask, using the interior cloth (saving the hemline for the masks themselves).
Straighten a paperclip and fold the ends in on themselves to round the edges.
Insert the paperclip into the tunnel of the hem.
Fold a 1/2-inch hem on either side of the mask and cut four tiny holes, two about 1/2 inch from the top and the other two 1/2 inch from the bottom.
Thread a strip of cloth through each hole, knotting the end, folding the hem back over and then stapling secure (smooth edges facing inside). You may also want to safety pin each tie.
This face mask might not win any awards for aesthetics, but it should help out in a pinch.
Grocery Bag and Pipe Cleaner Mask
Hoping to go out in something that looks a little less like a grade school art project? You might need some simple sewing skills, but this mask shared by the Oregonian is practical and relatively easy to make.
Look for bags made out of nonwoven polypropylene, which is a close match to N95 mask material. Then:
Use the shallow sides and bottom of the bag, and measure out and mark sheets measuring 8 inches by 9 inches.
Layer your three sheets evenly on top of one another.
Fold and pin a 1/2-inch hem along the two shorter sides.
Stitch in place with a sewing machine or needle and thread.
Repeat on the third side.
Take two pipe cleaners and twist them together; cut to fit the unhemmed side.
Fold material to seam in, then pin and sew the final side.
Fold and sew three 1/2-inch lengthwise pleats, with the pipe cleaner side up top.
Sew on bag handles or other long, strappy material for ties. Shoelaces also work well.
You'll only get one mask per bag using this method, but it's a clever model and may be more effective than a flimsy cloth covering.
HEPA Filter Mask
Take your face mask protection to HEPA filter extremes with this innovative design by Dr. Ryan Southworth.
Begin with a HEPA vacuum bag (don't worry — they're polypropylene material and completely safe), which is rated to trap 99.9% of dust and pollen, and use the template provided by Dr. Southworth.
Cut a piece of elastic the length of a sheet of paper and cut out your template.
Carefully cut the Hepa bag to expand the sides and flatten the material.
Use the template and draw the pattern along each of the seamed edges.
Cut the plastic out of the interior of each piece.
Fold a pipe cleaner in half to reinforce it.
Hot glue the pipe cleaner between the filter layers on one end. Be careful not to melt the filter material.
Sew both open seams shut.
Place the elastic bands along the long edges and sew the corners.
Fold the mask and sew closed the open sides.
None of these masks will protect you 100% from catching or spreading disease, but they may serve as an extra layer of protection between you and other people. Remember to combine mask use with good hand hygiene practices, such as washing hands with soap and water or using hand sanitizer containing at least 60% alcohol, and physical distance.
Face masks might be in short supply, but with a little creativity, you can protect yourself using items around your home. Not all of these designs are runway gorgeous, but they could make the difference between spreading the virus further or flattening the curve. Which one will you choose?
~Here's to Your Healthy Ascension!
Copyright 2019, AscendHealthy.com