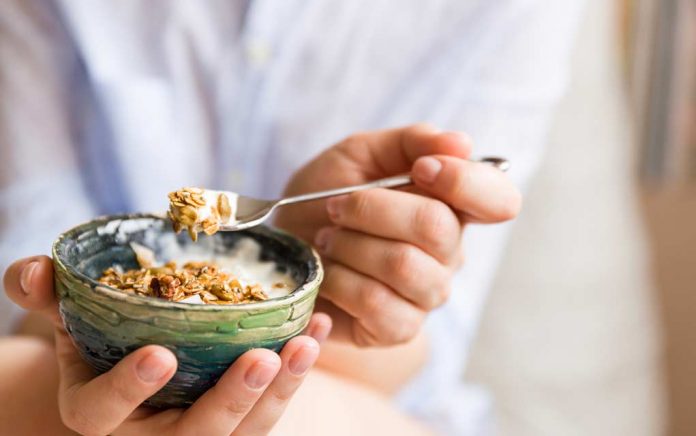 Yogurt is packed with nutrients, from muscle-building protein to bone-boosting calcium, making it a popular snack for adults and kids alike. This probiotic-filled food helps keep your figure trim and lowers your risk of developing type 2 diabetes, rheumatoid arthritis and ulcerative colitis. What's more, eating yogurt at least twice a week may even save your life — at least if you're an adult male. Find out why adding yogurt to your grocery list may reduce your odds of developing bowel cancer, a condition that affects more than 100,000 U.S. residents each year.
Quick Read:
Yogurt is nutritious and delicious, but the benefits don't end there. Regular consumption of yogurt may thwart the development of bowel cancer in adult males by decreasing the risk of adenoma development. Learn more about the connection between yogurt consumption and a cancer-free life below.
Discover How Eating Yogurt May Keep Your Bowels Cancer-Free.
Yogurt and Your Digestive System
Yogurt helps your digestive system run smoothly thanks to gut-healthy bacteria known as probiotics. These live cultures can reduce symptoms of constipation or diarrhea, as well as soften stools for struggle-free bowel movements. This makes bathroom time less of a hassle, but it may also reduce your risk of developing bowel cancer.
Risk factors for bowel cancer include a history of inflammatory, digestive and heart conditions, including ulcerative colitis, diabetes, obesity and Crohn's disease. Eating yogurt helps reduce your risk of developing these conditions, which may in turn lower your risk of getting bowel cancer. A low-fiber, high-fat diet is also linked to bowel cancer. Many yogurt brands offer low-calorie, low-fat and low-sugar options, which can make it easy for you to make healthy nutritional choices.
Yogurt Helps Stop Adenoma Development
Adenomas often appear as polyps in the colon. While many adenomas are initially benign, they have the potential to become cancerous over time. Men can reduce their risk of adenoma formation by 19% if they eat two or more servings servings of yogurt per week. Their risk reduction jumps to 26% for cancerous colon adenomas.
Experts believe this may be because Lactobacillus bulgaricus and Streptococcus thermophilus, two strains of bacteria found in some yogurts, decrease the amount of cancer-causing chemicals lurking in your digestive system. Yogurt also helps balance your intestinal pH, so it's harder for cancer cells to thrive.
Tips for Adding Yogurt to Your Diet
If you aren't a fan of yogurt or you follow a strict nutritional plan, squeezing in two servings per week may seem difficult. Dr. Arun Swaminath, an inflammatory bowel disease specialist from New York, suggests swapping some of your red meat with heart-healthy yogurt. Men who dislike refrigerated yogurt may enjoy the creamy texture of frozen yogurt. You can also try topping yogurt with foods you like, such as crushed nuts, sliced fruit or some dark chocolate shavings. Making a yogurt smoothie packed with high-fiber fruits and vegetables can also be a great way to mask the flavor.
You don't have to eat yogurt with every meal — or even every day — to take advantage of its potential benefits. Add yogurt to your diet just twice a week to create a healthy microbiome that helps thwart the development of bowel cancer.
~Here's to Your Healthy Ascension!
Copyright 2019, AscendHealthy.com