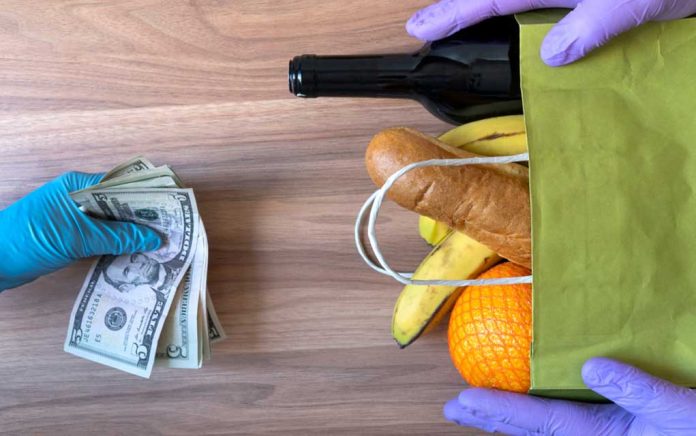 (AscendHealthy.com) – Even if you've been a minimalist about it, you probably haven't been able to avoid leaving your home altogether. When you do go out, it's important you do everything you can to keep from bringing the pandemic back home with you. Check out these tips to stay safe while you're out and about.
Quick Read:
Stay safe while you're out running errands by using your mask and other protective gear, such as hand sanitizer before you leave your home. Practice safe distancing while you're out and sanitize any containers you can before you bring them in. Once you're home, change your clothes and shower to reduce possible contamination. We have the details on each of these steps in the article below.
Follow These Safety Tips for Running Errands During the Pandemic.
Safety Items to Bring With You
Be prepared before it's time to go, so you don't find yourself scrambling once you've left. Make a checklist with everything you'll need to stay safe.
The Centers for Disease Control and Prevention (CDC) is now recommending that you wear a cloth face covering when you're out in public. If you can't find anywhere to buy one, you can make your own using one of a few methods:
Sewn fabric face cover – Cut two 6-by-10-inch cotton sheets. Hem the long sides 1/4 inch, then hem the short sides 1/2 inch. Cut two 6-inch lengths of 1/8-inch-wide elastic and feed one through each of the side hems and knot. Tuck the knots inside the fabric before sizing the mask on your face and gathering the material to adjust the fit; sew to set the shape.
Tee shirt face cover – Cut the bottom 7 to 8 inches off a tee shirt. With the material flat, cut out the center from one side, leaving about an inch or so of material along the top and bottom. Cut each of those lengths in half, turning them into mask straps. Tie one at the back of the head and another behind the neck.
No-sew bandana cover – Fold a bandana or 20-by-20-inch cotton cloth in half. Lengthwise, fold the bottom and top halves over one another into the center. Pull two rubber bands or hair ties over the cloth, setting them about 6 inches apart. Fold in the sides and tuck one into the other. Place the tucked side over the face, adjusting to fit and securing with the elastic bands.
Be sure to pack a small container of hand sanitizer that contains at least 60% alcohol (but the higher the percent, the better). You may also want to bring plastic gloves. Also consider having a supply of EPA-registered disinfectant wipes and aerosol spray ready at the door for when you return.
Staying Safe While Running Errands
Even if you wear a mask and gloves, you're not 100% safe. It's important to stay at least 6 feet away from other people. Touch as little as possible and don't touch your face or eyes. Try to avoid going anywhere that's crowded, if possible. Have a shopping list handy so you can get in and out as quickly as possible. If you're a senior citizen, it's ideal to find out what hours are designated for seniors and take advantage of them.
Precautions to Take At Home
Because dangerous viruses can survive on surfaces for varying lengths of time, it's important to disinfect whatever you can before you bring it in. Obviously, you can't spray Lysol on all of your food, but remember that numerous people may have touched the items you've just purchased. It's safe to use Lysol on most boxed and canned goods, but avoid using it on fruits and vegetables.
Remove your shoes at the door, shed your clothes and shower as soon as you get in. Wash and repackage anything that can't be sanitized. These steps may seem excessive, but they could be the last line of defense that keeps you from getting sick.
You probably can't avoid going out completely, so make sure you're safe about it when you do leave your home. Be prepared, stay aware of yourself and your surroundings and be quick to clean up when you return. With a little caution and some common sense, you can stay stocked up and safe.
~Here's to Your Healthy Ascension!
Copyright 2019, AscendHealthy.com